C2 Compatible: Using NinjaTrader with Collective2
C2Bridge is only for Futures, Forex, and Stocks at this time. Users cannot sync / trade options.
C2Bridge is special NinjaTrader 8 Add-On capable of reading any type of order from any version of NinjaTrader 8 and posting it automatically into a C2 trading strategy which you manage. C2Bridge requires at least version NT8 RC1.
Once you set up NinjaTrader 8, orders can be entered into your C2 system without logging into Collective2. In addition, you can use NinjaTrader's manual buy / sell order entry, or you can use NinjaTrader's automated strategies to enter new signals into C2.
How to get started
First:
Then:
Open NinjaTrader 8 (if it's closed)
Go to Control Center / Tools / Import / NinjaScript
Import C2Bridge.zip from your Desktop (or wherever you put the file)
Exit and Restart NinjaTrader 8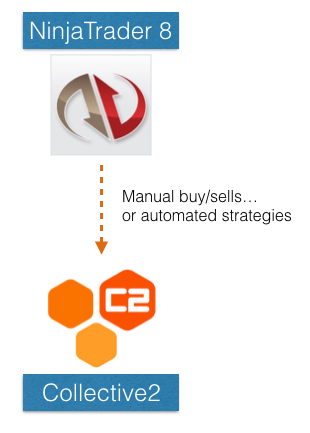 How to connect NT8 and C2
Start NinjaTrader 8
Connect to a live datafeed
Go to Control Center / Tools / Collective2 Bridge
The C2Bridge form will appear
Select your NinjaTrader 8 Account to sync
Select your NinjaTrader 8 Strategy to sync
Fill your C2 Account API Key
Fill your C2 Strategy ID number
Click on Connect button
Click OK