Broker Private Label
Registered brokers can use C2 to set up their own trading-system web site, and to enable automated trading. Features include:
Your own brand. Create a private-label web site branded with your firm's name, logo, and colors. As far as web site address, you can use your own domain name, or we can provide you with a web address that includes your firm's name.
Thousands of trading systems. Offer your customers immediate access to the entire Collective2 trading-system library.
Rock-solid AutoTrade technology. Your customers will be able to AutoTrade any system on your site, exclusively through your brokerage firm. No other brokers will be displayed.
Your commissions stay your commissions. You'll continue to earn the same commissions you are earning today, and you'll keep 100% of them.
Keep your proprietary systems. If you currently have an exclusive arrangement with a system developer to offer his or her system to your customers, you can continue to offer the system through the C2 platform, while maintaining its exclusiveness to your firm.
Easy and automatic. No more running a dozen copies of TradeStation in your office, no more jumping up when a bell sounds on a PC, no more typing in orders. Orders are generated automatically by C2 trading systems and automatically piped into customer accounts.
Individual self-managed customer accounts. No block orders, no distributing orders into various accounts. Each of your customers manages his own account by choosing which trading systems to AutoTrade, and how large to make the trades, and where to place automated stop-losses (if any.)
Compliance Friendly. We're NFA members, so we know how important and difficult compliance can sometimes be. That's why we've invested in making sure our technology and business practices are accepted by the world's leading financial regulators such as the NFA.
Three types of Sites
Broker Private Label users can set up any of the following types of web sites:
Multi-System Site
Give your customers immediate access to C2's evergreen library of thousands of trading systems. Select which instrument classes your support: stocks, options, futures, forex.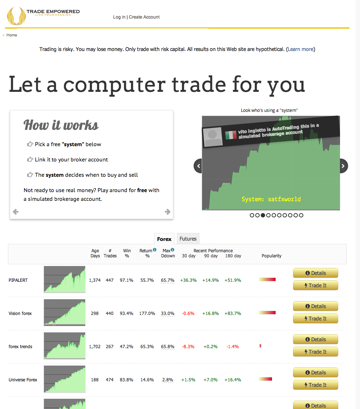 Selected-System Site
Choose a limited set of systems to offer your customers. These may include systems from the C2 library, or private proprietary systems that you manage and make available only through your own web site.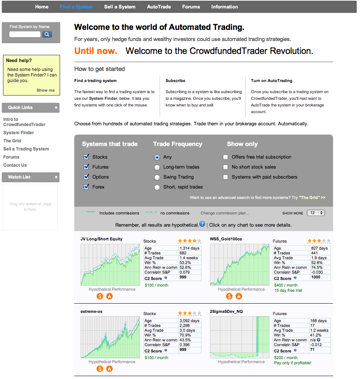 Single-System Site
You can create separate web sites for each system you manage, presenting only that system - and only AutoTradable at your brokerage.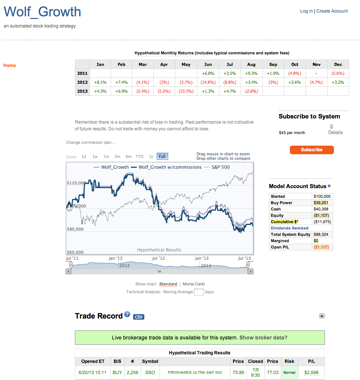 Cost
Annual license fee of $895.
Customer accounts are charged typical C2 AutoTrading fee. Your commission remains the same and you will continue to receive the full amount.
Get started
Contact Melissa Karty at melissa@collective2.com or +1-914-610-3979 x 3.